Der RR 258
Dieser Antrieb wurde für Quarterscale -Warbird Modelle entwickelt. Von Piloten - für Piloten
Schon bei der Konzeption flossen die Erfordernisse für den Betrieb in einer schlanken Motorhaube mit in die Motorkonstruktion ein. Hier wurde von Beginn an die Umsetzbarkeit in einem Modell gedacht , wie z.B. Vergaserpositionen, Auslassposition, Motorbefestigung, Kühlung. Bei keinem anderen Konzept wird auf all diese Dinge geachtet, der Konstrukteur fliegt schon lange mit 1/4er Warbirds - die Erfahrungen stecken in diesem Projekt.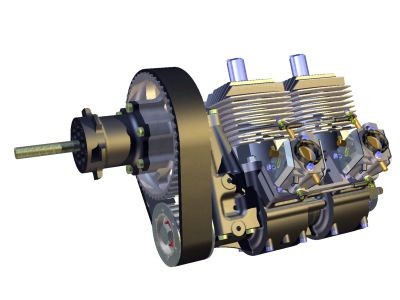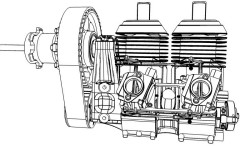 belt drive: techn. Daten / specifications

Hubraum
capacity
2 x 58 ccm (116ccm)
app. 7 cu in
Übersetzung
ratio
2,16 : 1
Gewicht
weight
4,7 kg
10,4 lbs
Leistung
Power

~ 15,5 PS

( bei 8500 1/min an der Kurbelwelle)

Propeller
props

gemessen mit MVVS Resorohr

measured with MVVS tuned pipe

SEP 4 Blatt
28" x 26"

3550 1/min on ground

Schub / thrust 34kg

SEP 4 Blatt
30" x 26"

3350 1/min on ground

Ramoser 3 Blatt scale FW 190 D9
31" x 28"
3350 1/min on ground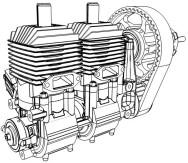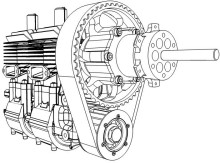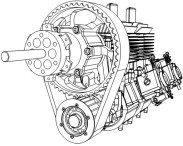 Hier ist der Motor zum Antreiben "richtiger" Propeller! Wer von SCALE redet kommt um ein Getriebeantrieb nicht herum. Nur dadurch haben Sie die Möglichkeit die erforderlichen Propellergrößen zu montieren - und auch erfolgreich damit zu fliegen . . . nur eines muss klar sein: diieser Antrieb liegt leistungsmäßig über dem RR258 ohne Getriebe (höhere Drehzahl an der Kurbelwelle - mehr Zündungen pro Zeiteinheit) - Das resultierende Drehmoment z.B. beim Durchstarten fordert vom Piloten Aufmerksamkeit und Beherrschung des Modells.
Der RR 258 RG unterscheidet sich von anderen Konzepten durch die integrale, verwindungssteife Getriebekonstruktion. Die sucht seinesgleichen und ist mit den gewöhnlichen "Aluplatten-Anbauten" nicht zu vergelichen. Hier wird nichts an Kühlrippen drangebastelt oder um das Motorgehäuse aussenrum drangeschraubt. Hier ist die Getriebekonstruktion bereits im Gundkonzept des Motors mit eingeplant. Somit sind Fluchtungs - und Spurlauffehler im Antriebsstrang ausgeschlossen - das System lläuft immer "gerade". Darum und weil der RR258 sowieso sehr kultiviert läuft kann ein Zahnriemen verwendet werden. Somit gibt es kein Schlupf wie bei Keilriemengetrieben - der Antrieb lässt sich sehr gut starten. Und obendrein benötigen wir deßwegen auch keine Schwungmasse zusätzlich an der Welle. Schauen Sie sich den Film #1 oder #2 an .
Die Stabilität des Modells, der Rudermaschinen und Scharniere muss unbedingt der hohen Motorleistung angepasst sein. "Der kleine Kerl verleiht neue Flügel" Großes Augenmerk muss allerdings auch der Kühlung gegeben werden -wenn hier nicht ordentlich gearbeitet wird führt dies unweigerlich zum Motoschaden. ( Hierzu folgt an dieser Stelle ein Artikel zum richtigen Einbau. )
If you talking about SCALE - you have to use a airscrew with the right shape, pitch and diameter. The RR258 belt drive is able to turn props you'll have to use in qurterscale models - and not only for show - you can fly it successfully! . . . but consider that this power plant produces more output than the RR 258 without gear (higher rpm's - more ignitions per time). The resulting torque to the plane e.g. in a missed approach takes all concentration and a smooth throttle-hand from the pilot.
The difference to othe concepts is the integrated, very strong transmission design. You find nowhere a similar principle - and it's not comparable to the "aluminium - mounting - plate gears" with screws to the cooling fins of the cylinders or other funny installations around the engine. Our design is made for a geardrive. No compromises. So there are no significant radial and axial deviation angles due to faulty installation or load forces. Our transmission is running "straight" ! That - and upon the smooth running and performance of the RR258 we able to use a timing belt. on top of that we need no additional mass screwed to the crancshaft. Watch the movies #1 or #2 !
The construction of the model, your ruddermachines and your hinges must be strong enough to withstand the forces - Consider: You'll plug in a little beast!
Another thing: the cooling of an inline engine. It is no problem . I'm flying since years only inline engines without thermal problems. But if you disregard that - you'll generate a malfunction up to a complete injury. (an article "how to do" - with pics and description is coming here)